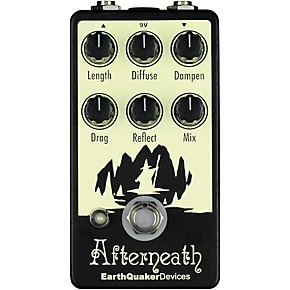 I'm sort of in love with Earthquaker Devices right now. Played a few pedals, and it's odd for me to say this.. you can always tell it's an Earthquaker. They do things just a tad different than everyone else.  To me, when playing a Earthquaker Devices pedal, you are instantly inspired to create. I've never experienced that from a pedal company as much as these guys. One of my first experiences was playing the Disaster Transport SR.. wow. I eventually ended up buying a Dispatch Master for myself and is easily one of my favorite pedals.
Today, I wanted to talk about one of their new pedals – EarthQuaker Devices Afterneath Otherworldly Reverberator. If you like shimmer delays… um, prepare to be blown away. I don't even want to try to describe this pedal.. just watch – just listen:
Epic. That's the first word that pops in my head. Instant atmosphere pedal.  Bad news.. it's not available yet, but you can purchase (pre order) via Musician's Friend for $225. Expected ship date is 8/15/2014.
Let me know what you think of this pedal by commenting below!!