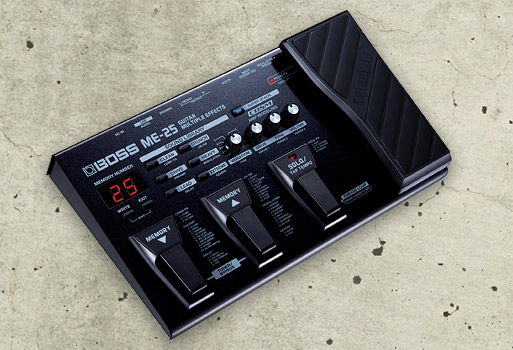 Hello all. Just received a press release from BOSS. Thought I would pass it on here:
Los Angeles, CA, April 20, 2010 — BOSS(R) is proud to announce the availability of the ME-25 Guitar Multiple Effects to its popular line of floor-based multi-effects. The compact and durable ME-25 inherits its high-quality sounds from the flagship ME-70, and packs a ton of BOSS tone tools into one amazingly affordable package.

Sporting a quick and easy user interface for professionals and newcomers alike, the ME-25 features a full compliment of COSM(R) amplifier models. The onboard Sound Library comes loaded with 60 effects combinations suitable for a wide range of playing styles. The ME-25 runs on six AA batteries or AC power, and its portable size makes it ready to rock anywhere.

The ME-25 is stocked full of the best BOSS effects — distortions, overdrives, modulation effects, delay, reverb, harmonist, and many more. The built-in expression pedal controls a number of pedal effects, including wah, octave up/down, and a unique freeze effect. Three heavy-duty footswitches allow the user to select sounds and perform other functions, such as accessing the built-in tuner, tapping in delay times, and enabling the SOLO feature.

The ME-25 is the first multiple effect processor at this price point to include BOSS' renowned COSM(R) amp-modeling technology. There's a range of classic amps from clean combos to raging stacks, along with a Super Stack function that gets big amp tone from a small practice amp. A 38-second looper is also included for real-time sound-on-sound recording.

The ME-25 also includes USB connectivity, allowing users to stream audio and other data back and forth with their computer. A powerful librarian is available as a free download to manage sounds, and the ME-25 is bundled with Cakewalk SONAR 8.5 LE for multi-track audio and MIDI recording.

The ME-25 is now shipping with a retail price of $276.50.