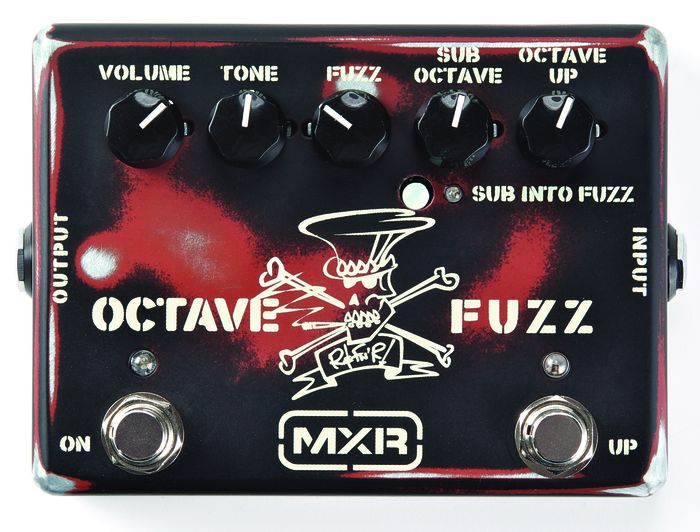 Here is a new product by Dunlop/MXR that a few of you might be interested in for sure. It's the MXR Slash Octave Fuzz pedal. With this octave fuzz you definitely have some options for cool tones. There are two octave voicings – sub octave and octave up. Controls include volume, tone and fuzz. There is a push button to select between low octave or high octave. Additionally there are 2 internal trim pots to control the sensitivity of gain and tone. There is not specific mention of the transistors used, I'm assuming that since it's a 70's based fuzz that it's silicon based.
Here is the official description from Dunlop's site on the MXR Slash Octave Fuzz:
Two legendary and timeless icons of rock music—Slash and MXR Innovations—have teamed up to deliver the Slash Octave Fuzz. It features a searing Fuzz tone coupled with a separate Sub Octave voice and an Octave Up Fuzz, all for thickening up your tone with a sinister growl. With an array of external and internal controls, there are numerous ways to combine the main Fuzz effect's thick '70s shag with the chainsaw grind of the Octave Up Fuzz and the warm growl of the Sub Octave. Internal Gain and Tone pots shape the Octave Up Fuzz effect. Emblazoned with custom Slash graphics, the Slash Octave Fuzz features all analog circuitry, true hardwire bypass and comes in a heavy duty housing with durable jacks and switches.
Here is the official product video by jimdunlopusa:
[iframe_loader width="425″ height="344″ frameborder="0″ longdesc="" marginheight="0″ marginwidth="0″ name=" click_words="" click_url="" scrolling="auto" src="http://www.youtube.com/embed/p5JPseB11-c"]
The MXR Slash Octave Fuzz is currently available for pre-order  for $129.99 at Musician's Friend. They are expected to ship on 5/18/2012.